An egg is a very handy food to have because you can make several variations of it in minutes. Today we will introduce you to one such dish, which is masala fried egg. This article is a complete step-by-step guide to everything you need to know about masala fried eggs, from how to make them to their health and nutritional value. Let's dive in!
Masala Fried Egg
Masala fried egg is a desi spin on the traditional fried egg recipe, also called sunny-side up, which is made with the addition of spicy chilies, crispy veggies, and warming spices. It is also commonly known as "egg fry masala" or "poached egg."
What Is Masala Fried Egg?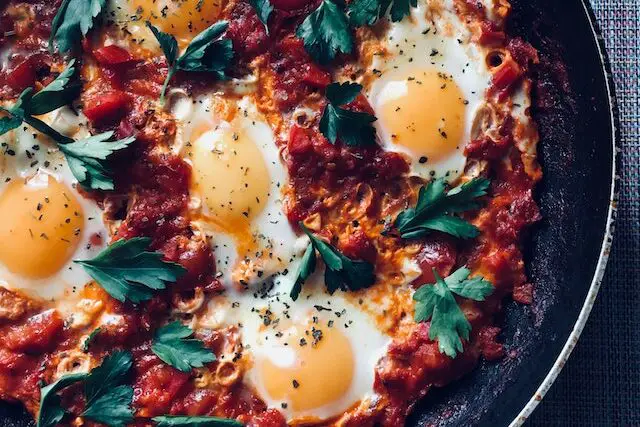 Masala fried egg is a famous Indian street food and a popular breakfast dish in many households.
You can cook it sunny-side up, but some recipes call for flipping the egg over and making it over-easy or over-hard, based on your preference. 
History
In ancient Egypt, people used to fry ostrich eggs on fire. The Romans enjoyed fried eggs with honey, as a dessert. It is also known that the people of Iran mixed the egg with milk and spices, which, later in the seventeenth century, came to be called an omelet by the French.
The perfect way to make fried eggs is to slowly cook the eggs in butter. This technique was developed by the French Chef Fernana Point in the 1950s.
As an experiment, some spices and veggies were added to the fried eggs to add more flavor and zing to them.
Taste And Smell
Masala fried eggs have a savory flavor, while the distinct taste of black pepper powder makes the dish bolder.
Garam masala enhances the aroma and adds an earthy flavor to the dish with a hint of spice and sweetness. A pinch of red paprika is also sprinkled on the eggs to give them a vibrant color and make them mildly spicy.
Fried eggs have a unique smell that some people may find unbearable. Egg whites contain sulfur compounds, which break down when heated and release sulfur gases. They then react with the iron in egg yolks, and give off an unpleasant odor.
To avoid this smell, you should make sure to not overcook the eggs.
Popularity
Masala fried eggs are a glorified dish in the streets of India, Bangladesh, and Pakistan. During the frying process, many condiments like green chilies, red paprika, black pepper powder, etc. are added to impart more flavor.
Fried eggs are an important part of German breakfast dishes. It can be served atop a ham sandwich or alongside fried potatoes and spinach.
Fried eggs are a common breakfast food in Egypt, America, the UK, Ireland, Indonesia, and many other countries across the globe.
Fun fact: Masala fried egg can be used in a burger! The "Anda Burger" or the "Masala Fried Egg Burger" is a Pakistani roadside favorite dish, which makes for a very filling and delicious meal.
Nutrition
Here is the nutrition info for masala fried eggs:
Calories- 702 Kcal
Carbohydrates- 16.1g
Protein- 30.4g
Fat- 58.5g
Health Benefits
Eggs are rich in vitamins A, B5, B6, B12, D, E, and K. They contain folate, phosphorus, calcium, and zinc. They also contain choline, which is useful in building cell membranes. 
When eggs are exposed to heat, the changes occurring in their molecules make the absorption of biotin (Vitamin B7 or Vitamin H) easier. Biotin is an important nutrient that boosts metabolism.
Paneer is also a good source of protein. Here is an article on egg vs paneer to know more about their health benefits, flavor profiles, and more.
Although there are numerous benefits to eating eggs, cooking them in too much oil or fat will defeat their purpose. This is why you should fry eggs with minimal fat or use healthier alternatives to oil such as avocado oil or olive oil.
About The Recipe
According to Chef Yasmeen Alsawwaf, "Fried eggs should be shiny and have fully set whites and shouldn't be blistered or browned, while the yolks should be properly cooked according to your preference."
Below is the recipe for chef-approved masala fried eggs. Let's take a look!
Ingredients
Here is a list of ingredients you need for making masala fried eggs:
2 Eggs
Extra virgin olive oil
1 small chopped onion
1 small chopped tomato
1 green chili
Salt and pepper
Red chili powder- 1tsp
1 tsp garam masala powder
Coriander leaves for garnish
You can choose other veggies, such as capsicums, mushrooms, etc.
Method Of Preparation
Follow these steps for street-style masala fried eggs:
Take a skillet and heat ¼ cup of olive oil on medium heat.
Break the eggs into a bowl and transfer them to the skillet. Cooking eggs at high heat can decrease their antioxidants. So turn the heat down as soon as you pour the eggs into the skillet.
Add the chopped onion and green chillies.
Add the condiments including salt, pepper, red chili powder, and garam masala. Add the chopped tomato last.
After the yolk has reached the desired consistency, take it off the flame and serve it hot. You can top it with cheese or fresh cilantro for added flavor!
This was the recipe for sunny-side up eggs. If you like your eggs over-easy or over-hard, then you can flip the eggs after adding the veggies and spices. And cook until the yolk reaches the desired consistency.
You can refer to this video recipe for making masala fried eggs at home.
Texture
The egg whites have a chewy texture after being fried, and the texture of the yolk depends on its doneness. If the eggs are sunny-side up or over-easy, the yolk will be runny. In over-hard fried eggs, the yolk also becomes solid.
The Salted egg yolk recipe is another dish you can make in a couple of minutes using eggs!
Serving Suggestions
Masala fried egg is a spicy dish. So to control the heat, many street vendors serve it with bread. If you are making it at home, you can eat it with a buttery naan or serve it with rice. You can also eat masala fried egg with tikka masala or a few slices of bacon.
Preservation Techniques
You can safely refrigerate fried eggs for 3-4 days. But we recommend against reheating as cooking them again will change their texture and flavor. 
But if you can't consume it cold, you can heat it in a pan with 1tbsp oil or butter for 2-3 minutes, without flipping the eggs.
Here is an article on curry vs masala, to learn more about different spice blends and their uses.
Conclusion
Here is the summary of everything you need to know about masala fried eggs:
Masala fried eggs are a popular street food in India and Pakistan.
The Egyptians were the first ones to use the technique of frying eggs.
Masala fried eggs have a strong aroma and are spicy.
Fried eggs have gained worldwide popularity, and many countries have their variations of this breakfast dish.
This dish contains 702 calories, 30.4 g protein, 16.1 g carbs, and 58.5 g fat.
Eggs are incredibly nutritious and an excellent source of protein.
For ingredients, you need eggs, oil, veggies, and spices of your choice.
For preparation, fry the eggs like you normally would, and add the chopped vegetables and spices to them.
Fried eggs have a chewy and tender texture.
You can serve masala fried eggs with bread, rice, or bacon. You can also use it in a burger or a sandwich.
You can refrigerate cooked eggs, but be sure to consume them within 3-4 days.