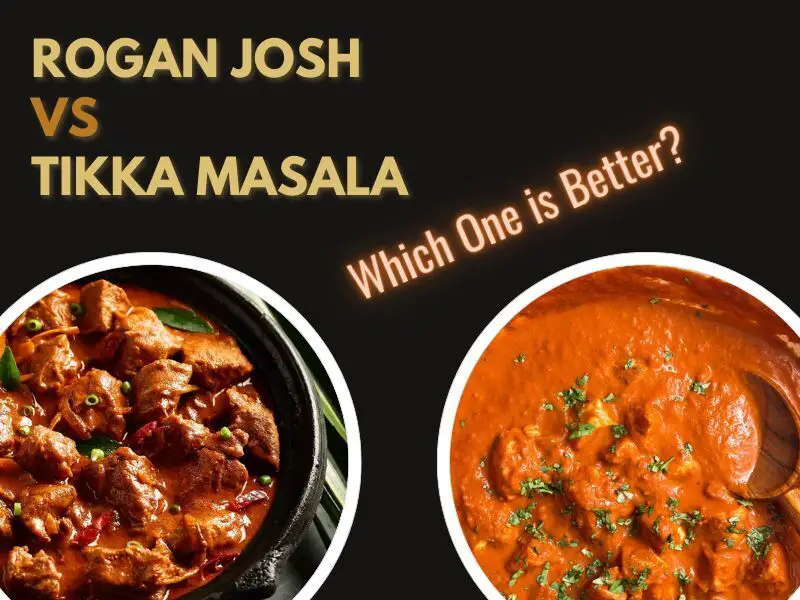 Rogan Josh vs Tikka Masala: Which One Is Better?
By Annie J. Kuykendall |
Warning
: Undefined variable $output in
/home/988023.cloudwaysapps.com/repcczdree/public_html/wp-content/themes/astra-alienrecipes-dec-22/functions.php
on line
1174
Last updated

December 22, 2022
Rogan josh vs tikka masala differ from each other in taste, texture, origins, color, and nutritional content, but they are both lip-smackingly delicious Indian curries that can be enjoyed with a variety of pairings like naan, rice, etc. So, in the battle of rogan josh vs tikka masala, come and find out which one is better. Let's begin!
Is Rogan Josh Spicier Than Tikka Masala?
When it comes to curries, whether it is rogan josh or tikka masala, they are both rich in spices and aromatics. Here are the ingredients present in each of them:
| | |
| --- | --- |
| Rogan Josh | Tikka Masala |
| Cloves | Turmeric powder |
| Cinnamon | Cinnamon |
| Coriander | Coriander |
| Cumin | Ground cumin |
| Cardamom | Garam masala |
| Paprika | Paprika |
| Ginger powder | Minced ginger and garlic |
| Garlic | Nutmeg |
Do you need these ingredients? Click here to order Indian groceries online.
Even though they are made from almost similar spice blends, tikka masala is only mildly spicy as compared to rogan josh. This is due to the varying quantities of spices included. For example, rogan josh has spicy Kashmiri paprika, whereas tikka masala has predominant notes of tomato and cream.
Read this article on vindaloo vs tikka masala if you love and prefer spicier foods!
What Is The Difference Between Rogan Josh And Tikka Masala?
For tikka masala vs rogan josh, we can use a number of differentiating factors to determine which one is better for you, according to your taste and preferences.
These factors are:
Taste
For rogan josh, the onions are cooked until they are caramelized, which gives the meat a sweet taste. And the yogurt also plays a role in suppressing the spice.
Besides, although the chilies used in rogan josh are mild, they are used in more quantity, which makes them spicier than tikka masala.
Roasted chicken pairs well with the creamy gravy of tikka masala. And since it is made from tomato sauce and puree, it is tangy and slightly sweet. It almost tastes similar to butter chicken.
Check out this recipe for preparing delicious tikka masala with lamb at home!
Texture
Tikka masala is a tomato-based sauce made with heavy cream, which gives it a rich, creamy and thick texture. It has a smooth consistency with chicken pieces in it.
Rogan josh consists of an oil-based sauce cooked on high heat. It has a distinct red color and a thick sauce with tender pieces of meat.
Color
Tikka masala has an orange hue due to the presence of red paprika and turmeric powder. Rogan josh, on the other hand, is made with liberal amounts of red paprika and chili powder, which gives it a red color.
Nutritional Value
Here is a comparison of calories and other nutrition facts in lamb rogan josh vs tikka masala:
| | | |
| --- | --- | --- |
| Nutrition Facts | Lamb Rogan Josh | Tikka Masala |
| Calories | 223 | 485 |
| Total fat | 13g | 34g |
| Carbs | 11g | 19g |
| Fiber | 2.5g | 4g |
| Protein | 17g | 34g |
| Sugars | 5.7g | 10g |
Rogan Josh vs Tikka Masala: Origins And History
Tikka masala is a part of Indian cuisine, but it did not originate in India. In the 1960s, many people were flocking from India to go live in Britain. The chefs among those people brought with them Indian spices.
It was the Indians in Britain who came up with the recipe of tikka masala by using a combination of garam masala, herbs, and spices. Tikka masala is still a very popular dish in Britain.
Rogan josh is a popular Kashmiri dish, but it was originally introduced in India by the Mughals. The Mughlai cuisine was mainly inspired by the Persians. Presently, rogan josh is a staple in Kashmir. It is also a part of the multi-course meal called Wazwan, which is a feast served on occasions of birth or marriage.
Rogan Josh vs Tikka Masala: What To Pair With Them?
The thick sauce of rogan josh is perfect for a dry side dish like plain rice or roasted veggies. You can also enjoy it with bread like naan or parathas.
You can serve tikka masala with biryani or bread like butter naan.
Tikka masala is a very versatile and popular dish, which can be paired with lamb or chicken. If you are looking for a vegetarian version, then you can mix the tikka masala gravy with paneer.
Makhani, a tomato, and butter-based sauce, also pairs well with chicken. Check out this article on makhani vs tikka masala to find out which is better.
Recipe For Lamb Rogan Josh
Mutton rogan josh, which is a Kashmiri curry, is considered a delicacy in India. It is made from an aromatic blend of spices such as cumin, ginger powder, paprika, fennel seeds, etc.
Here is a recipe for lamb rogan josh:
Ingredients needed
6tbsp oil
1kg Lamb
200ml yogurt
Salt to taste
One cup of diced onions
Spices required
Kashmiri chili powder- 6tsp
Ginger powder- ¾tsp
Fennel powder- 3tsp
Garam masala- 1tsp
Cumin- 1/2tsp
3 Cloves
Black pepper- ½ tsp
Cardamom powder- 1/2tsp
Cooking instructions
Heat 6tbsp mustard oil in a pot until it boils, and add cumin and cloves to it. You can also add a pinch of asafoetida to the hot oil for more flavor and aroma.
Add the lamb pieces to the pot and let them sear for a few minutes until brown.
Add cardamom powder, cloves, black pepper, and salt, along with the diced onions. Stir well.
Let it cook for about 15 minutes until the oil separates.
Then, add Kashmiri red chili powder and yogurt and give it a good stir.
Add ginger powder and fennel powder to give the gravy more flavor.
Now add salt to taste and water to manage the consistency of the gravy.
Close the lid of the pot and let the spices cook for 15 minutes on high heat and then 10 minutes on low heat.
Serve it hot with butter naan or biryani!
Here is a video for making lamb/mutton rogan josh in an authentic Kashmiri way.
What Does Rogan Josh Taste Like?
Rogan josh has a distinct smoky but sweet taste.
How Hot Is A Rogan Josh?
The heavy dose of spices used, along with the hot Kashmiri paprika, makes rogan josh spicy.
Written by
Annie J. Kuykendall
Hey there! My name is Annie J. Kuykendall and I'm a 41-year-old Scorpio with a passion for globetrotting and whipping up delicious meals. When I'm not busy being a certified world traveler and master chef, you can find me indulging in my other passions: Netflix binges and procrastinating on household chores. In my former life, I was a civil engineer, but let's be real, that was just a cover for my true calling as a wannabe stand-up comedian. So if you're in need of a good laugh or some tasty recipe inspiration, you've come to the right place.